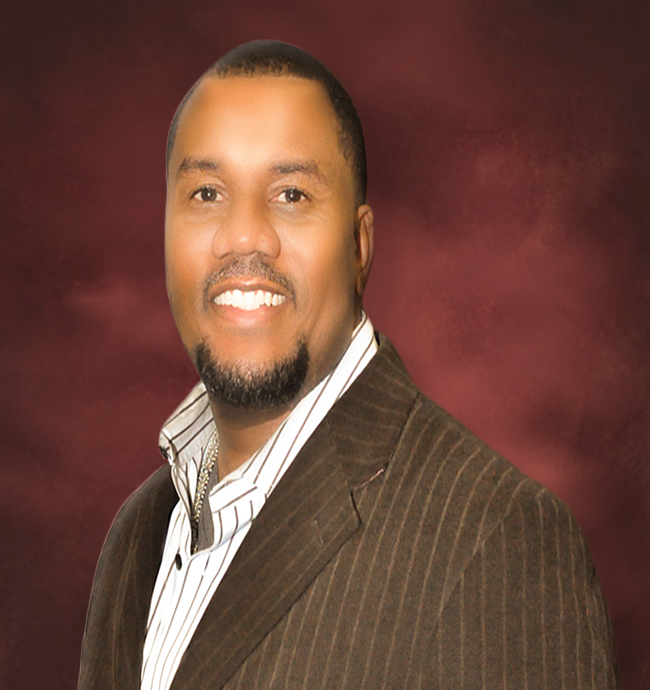 On July 18, 1975, Kervin C. Lightner was born to the parents of Charles Frank Lightner and Margie Ann Lightner in Dallas, Tx. This was during Pastor Charles F. Lightner's first year of pastoring. The youngest of four children, Pastor K. started out as a member of the Sunshine Band. He was definitely in Sunday school, on the junior usher board, and later the president of the men usher board. He sang in the sanctuary choir, the brotherhood choir, and the praise team.
His senior year of high school he met his wife to be, Lady Terri. After graduation and a couple of years of community college and starting a career at the Post Office, they later married on September 26, 1998. God has blessed them with two beautiful daughters: Ashelee and Mya. As the Lightner family settled in their lives, the Lord blessed them to start their own non-profit, EE&E Youth Organization. This entity granted Pastor K and Lady T access to enter all local DISD and Desoto ISD schools.
They had liberty to Educate, Empower and Enlighten the minds of the youth through mentoring programs as well as community initiatives such as feeding the communities, back to school events, Christmas toy drives and a Fit 4 Life Youth Camp in the summers. Pastor K. was called to the ministry and received a great biblical foundation under the leadership of Pastor LIghtner and 1st Lady Margie Lightner. God revealed to him to build on that foundation and assemble himself in a place of biblical and divine Christian learning. He enrolled at Trinity Christian Church and studied
courses in prayer, marriage counseling, and basic bible.o enrolled at Southern Bible Institute in the 4 year biblical studies program and in his last year. God not only called Bro. K. Lightner to minister in this capacity but chose him to pastor as well. The church began in 1974 and the successor was born in 1975 and was appointed by Pastor Charles F. Lightner in 2016 and now succeeds him as pastor of New Comforter Church. Pastor K is honored to be used by God and passionate about the ministry. He's humbled to be an ingredient in the work of The Lord and also privileged and elated to be a servant in such a rich legacy.

I can do all things through christ which strengtheneth me!
FOR GOD SO LOVED THE WORLD THAT HE GAVE HIS ONLY BEGOTTEN SON!
FOR BY GRACE ARE YE SAVED THROUGH FAITH!
Terri Brooks was born August 11th to Evelyn and Terry Brooks in Dallas, TX. Ms. Evelyn Brooks later married John Gaines which are the proud parents of Lady Terri. She began attending New Comforter with her parents in 1992. Ultrasound Diagnostic School of nursing was the place of choice after high school graduation. Immediately after the nursing program she continued her education at South University. The course of life led her to meet and marry her husband Kervin Lightner. She became a wife and beloved mother to Miss Ashelee and Mya.
The role from student to wife then mother caught the eye of the First Lady, Ms. Margie Lightner. She mentored and cultivated the character of Lady Terri which in turned forged a relationship with Trinity Christian Church. Trinity Church and School gave great opportunity to mentoring, becoming PRO President and working with the women's group. She later succeeded as CEO of EE&E Youth Organization.
Many have benefited from this nonprofit organization such as the Forgiven Felons Ministry who receives work attire and financial classes. EE&E is also responsible for third Saturday food pantry and partners with Giving with Love ministry. Lady Terri along with New Comforter family brings hope and love to their community during the holiday season with their annual toy drive.
God has placed her in a position that she is well capable and compassionate about, serving others. She is now the First Lady of New Comforter Family Church and supported by G.L.O.W, an awesome prayer team and a host of family and friends.